An excellent way to banish the mid-summer "I'm bored"s from the kids is to host a summer party. A tropical party can be fun for everyone. Whether your kids are littles, tweens or teenagers, it doesn't have to be huge, it doesn't have to be expensive, and it doesn't have to be complicated the only thing it has to be is fun and to help ease the strain here are some party planning ideas.
Invitations
To save money, send email invitations. Most e-mail invitation sites don't charge for their services and offer a wide variety of themes to match your party. I found these, available for free on Evite:
Alternatively, you can easily make them at home with the help of tropical clip art and, if you prefer hard-copy invites, print them out.
Decorations
An inexpensive way to decorate is to make tissue paper flowers that you can scatter across your party tables and area, as well as tissue paper tropical birds.
Make multi-colored paper lanterns and hang them from your ceiling with fish wire.
Ask your guests to be walking decorations by dressing up in fun tropical clothes, colors or costumes—the wilder, the better!
Paint a Hawaiian tropical scene on an old sheet and hang it on a wall in the garden. It will make an excellent background against which to take photos. If you are feeling really brave, you could just hang the sheet and let the kids decorate it themselves as part of the party.
Get the kids to paint or draw a big "Aloha" sign with which to greet your guests – the more colorful, the better.
Games & Entertainment
Limbo is always good fun. Mix it up a little and play water limbo – instead of a pole you limbo under the stream of water from a hose. Now there's an added incentive to not touch the pole!
Teach people to hula—have grass skirts available to make it authentic and really have fun with it.
Instead of pass the parcel you can play pass the pineapple. Buy a fresh pineapple and have the kid's guests pass it around to music. When the music stops, whoever is holding wins a prize. This is especially good for the little ones because you can control when to turn the music off & make sure everyone gets a prize.
Have a relay race with a tropical twist. Fill a suitcase or a big colorful bag with clothes that you would wear on vacation. You can include items such as hats, sunglasses, flip flops – let your imagination run wild. The relay consists of running to the bag, getting dressed in the outfit, running back with the bag, taking the costume off, and then the next person must put on the costume and run with the suitcase to the other side. A more simple variation is to have two rows of hula hoops on the ground, each with one item in. The runners have to get to the hoop, stand in it and put the item on, then run to the next hoop and do the same.
Go, Coconut Bowling. Use a coconut as a bowling ball to knock over the pins. You can make the bowling pins from empty soda bottles painted in colorful patterns. Putting a little water or sand in them will make the game more fun.
Play – Pin the tail on the Monkey or Pin the Banana on the Palm Tree or some other tropical variation.
Break open a tropical piñata. Learn how to make one here.
Tropical Party Crafts
Give each guest an index card that has his or her name spelled in traditional Hawaiian. You can find a fun translation page here.
The kids can make name tags or bracelets with their traditional Hawaiian names. Put together a Ziploc bag with the correct letter beads for each child's name and place a basket of assorted beads in the center of the table.
Make leis – there are three traditional methods: will (the wind, twist, crank, coil), Hilo (twist, double helix, intertwine), hili (braiding or plaiting using one type of material) and haku (three-ply braiding using different types of material) methods.
Have a face painting table. Tropical palm trees or fruits are fun, and big colorful flowers are relatively easy to paint.
Decorate sand dollars, stones or shells with glitter and glue. Or you can have the kids paint them and stick on googly eyes to make their own fun sand creature – also great to take home with them!
Food & Drink
You can set up a "Snack Shack,"  for guests to scoop up snacks at their leisure, including:
Fruit salad—try to include some tropical fruits in the mix.
Veggies with a ranch dip
Crackers and cheese
Chips and dip
Hawaiian meatballs
Hawaiian pizza
Fish-shaped sandwiches
Goldfish crackers
Pineapple boats
Cookies in the shape of sea creatures, flowers or fruits
Fruit skewers with chocolate and other sweet sauces or yogurt for dipping.
Cakes in ice cream cones. You can have the kids frost and decorate them with tropical flowers made from sugared candies.
Hawaiian Punch—add in cherries with an umbrella for extra flair
Shirley Temples
Juice
Milkshakes
Tropical fruit smoothies
Party Favours
Send the kids home with a sand pail filled with candy, bubbles, tropical stickers and a fish notepad.
You could also give your guests hula-hoops or inflatable beach balls, water wings, pool toys, flip-flops, etc.
If you hold a tropical party, I'd love to hear about it!
To help you out, here are some party plates, utensils, and decorations you can find online. Similar items can be found in dollar stores or party stores. The great thing about this theme is that it is very versatile. You can mix and match different plates, decorations, etc.
These beautiful hibiscus flowers will brighten any table and set the stage for a great luau! These decorative dinner size plates are perfect for a meal or party snacks and make clean up a snap. Add a decorative touch to any tropically themed occasion. ($15.00 at the time of posting)
Decorative luncheon size plates are perfect for snacks and cake or dessert. Add a decorative touch to any tropically themed occasion. ($9.66 at the time of posting)
Creative Converting is a leading manufacturer and distributor of disposable tableware including high-fashion paper napkins plates cups and table covers in a variety of solid colors and designs appropriate for virtually any event. ($13.54 at time of posting)
Avoid washing silverware after a large gathering with elegant plastic utensil sets. Perfect for graduation parties, banquets, picnics, holiday gatherings, and cookouts, sets of disposable cutlery are a must have when you want to save time and money. Each pack contains 16 each of forks, knives, and spoons, all made from durable plastic, and can also be easily coordinated with our other solid-color tableware ($6.04 at time of posting)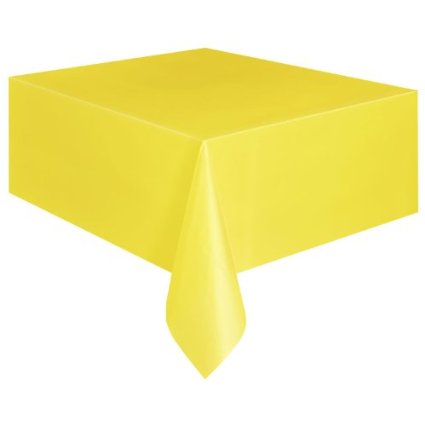 Reusable, Washable, Waterproof. ($5.29 at time of posting)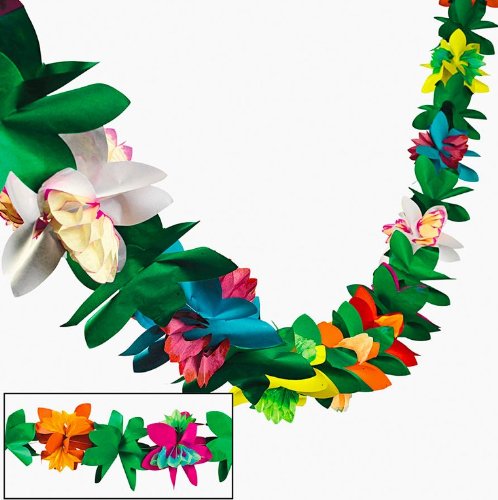 This stunning garland is perfect for decorating your luau or jungle themed event String it over a doorway or around the buffet table1 Tropical garland.9 ft. X 3″Tissue garland. (Cost is $4.99 at the time of posting. 2 strands recommended for party decor for a total of $9.98)
Brighten up your summer party with these Package of Six Mini Flower Fans! Each fan is 6″, made of tissue, and ready to hang. They come in assorted colors and open full round. ($8.49 at the time of posting)
Set the party mood from start to finish with luau party supplies from Creative Converting. The fluted floral bowl is perfect for chips, dip, or candy. Add a decorative touch to any tropically themed occasion. (Cost is $3.15 add-on item at the time of posting. 2 bowls recommended for party service for a total of $6.30)
Add a festive splash of color to your table with this versatile dinnerware that s perfect for your next poolside picnic or family barbeque. Bright colors and sturdy design. Hand wash. Set of 3 plastic serving platters includes one blue, one green, and one purple. Each plate is 17″L x 11″W. ($7.99 + $4.99 shipping at the time of posting)
Serving beverages at your next special occasion just got a whole lot more colorful. And, because creating a party is really all about creating a mood, Northwest Enterprises is committed to offering high-quality party essentials with a great look at an affordable price. Each assortment contains 50 bright and bold quality hard plastic 10-ounce party tumblers designed to really make a statement: finally, plastic drink ware doesn't have to be boring. ($9.06 at the time of posting)
Total cost, including shipping charges & multiple item orders, is $96.34